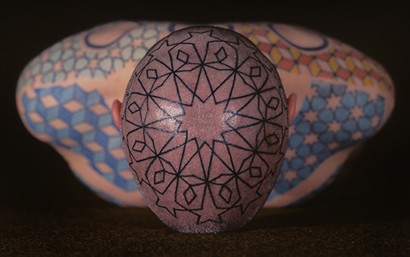 The artist spent five years becoming heavily tattooed with his own designs. Raised as a Roman Catholic but with strong influences form Indian members of his family, Wagstaff's tattoo designs draw strongly on his religious upbringing and consist of symbols and patterns that are found in almost every culture in the world (circles, squares, swastikas, stars etc). Wagstaff is interested in the migration and spontaneous generation of geometric forms; how the same shapes and patterns can be found in diverse cultures over vast geographic areas.
The artist has used the medium of tattoo to transform his body into a work of 'living art', a celebration of form and geometry using the fundamental concept of mark making combined with the creative possibilities of the human body. Wagstaff has become form and content as well as subject and object.
Rise Berlin will be showing a series of Wagstaff's large format photographic self portraits along with 'Shroud'; a life size impression of the artist screen-printed using his own blood. Blood is a byproduct of tattooing so it seemed natural for the artist to use this in his work.
"The emergence of Lee's image on the Shroud elevates him to the status of a surrogate divine seemingly without the intervention of God. It comes off as both disquietingly heroic and at the same time spiritually arrogant"
-DAVID BOWIE
Wagstaff studied at the Royal College of Art in London and Kyoto City University of the Arts in Japan graduating in 2000.