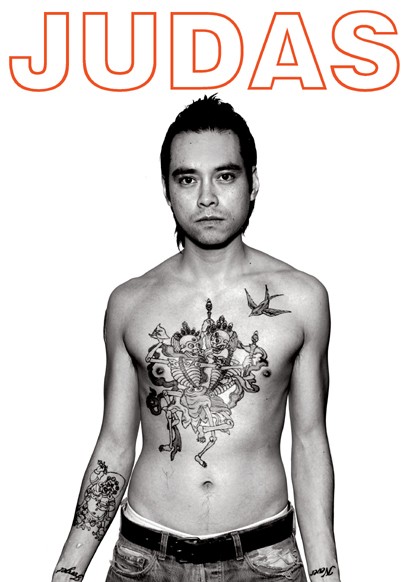 Apostles is an installation of thirteen large portraits of heavily tattooed men.
Wagstaff depicts himself as Jesus Christ and twelve others as his Apostles, in a modern reworking of the popular religious theme. Instead of portraying a 'true likeness', the artist makes the connection between first century religious outlaws and modern day non-conformists. The viewer is challenged to put aside preconceptions, and explore the possibility of the 'truly human' becoming the 'truly divine'. These works, positioned somewhere between urban anthropology and Byzantine icons, present a progressive yet dignified portrait of the saints.
Apostles communicates a visual paradox, exploring notions of bestowed divinity and self inflicted individuality; where painful rituals with blood and ink have been traded for extensive decoration of the body. All of the subjects physically display a degree of dedication and devotion to tattooing that goes beyond mere bravado or initiation, embracing affliction with almost religious fervour.
Each portrait is life size showing in detail the skill of many tattoo artists as well as the creative intentions of the wearer. Each model's choice of tattoos is drawn from a wide range of sources, sacred religious and tribal motifs are mixed with graphic symbols, calligraphy, geometry, nature, fantasy and caricature; even the most irreverent markings assume a profound resonance when etched into fragile human flesh.
With Apostles, Wagstaff has been influenced by the simplicity of early Christian art, as well as the isolated photographic portraits of Richard Avedon, and the juxtaposition of text and figures in the paintings of Peter Blake. The artist employs the stark graphic language of modern advertising combined with the literal inclusion of the names of each saint, to encourage a dialogue between the spiritual and the physical. Apostles seeks to be devotional; addressing a contemporary religious viewer but remaining accessible to a wider secular audience.
The artist identifies himself as a Christian. He is inspired by the bible, and in particular the gospels, but distances himself from formal organized religion. He prefers a humanistic interpretation of God's word that accommodates the challenges and complexities of modern life.