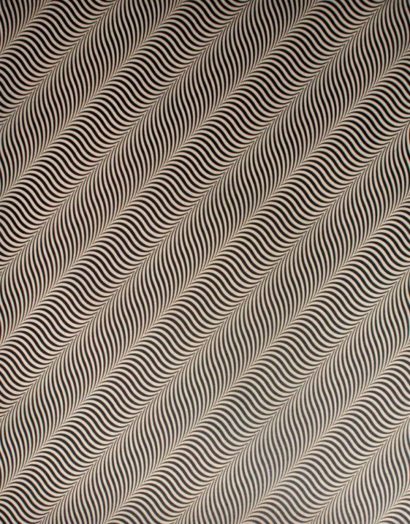 RISE berlin is pleased to present – "Humble like an Earthworm" new paintings by Lee Wagstaff.
Wagstaffs paintings are a series of geometric-based images that waver between abstraction and representation. The titles of the works allude to real or imagined forms inviting the viewer to decide on which side of the representational fence they sit. Wagstaff is interested in the suggestion that a title of a painting can work with or against the image to influence how the viewer experiences an artwork. The paintings utilise common illusional tricks to confuse, hypnotise and influence, to temporarily cause a perceptual shift that catches the viewer off guard.
"My works could be seen as a series of proposals which invite further qualification and refinement. I am interested in how art can be used as a tool to reorder the world around me and how this aesthetic order could have either a consoling or agitating effect or even both. A recurring theme in my work is pattern, I am drawn to patterns as a way to predict and perhaps defy cosmic order.
When I make art I think about whether it is still possible to make images and objects that embody ideas of faith, beauty and truth in a contemporary world ".
The title of the exhibition comes from an idea put forward by the mysterious 5th-century thinker Pseudo Dionysius the Areopagite. Pseudo Dionysius suggests the concept of dissemblance as opposed to resemblance – in that it is as easy to describe what something does not look like as it is to describe what something does look like. This is particularly useful when trying to make religious images. To make an image of an earthworm and say Jesus is not like an earthworm is obvious, but if the viewer is receptive they are now thinking about both Jesus and earthworms regardless of the potency of that image. In addition by now equating Jesus with an earthworm, the mere suggestion gives rise to actual comparisons as in the Passion Jesus humbled himself more than any earthworm has ever done.
In a digital age is easy and sometimes comforting to submit to empty meaningless images as a retreat from the repugnancy of reality, Wagstaffs paintings play with the notions of dissemblance, suggestion, and op-art in an attempt to gain some spiritual traction with a fatigued audience.