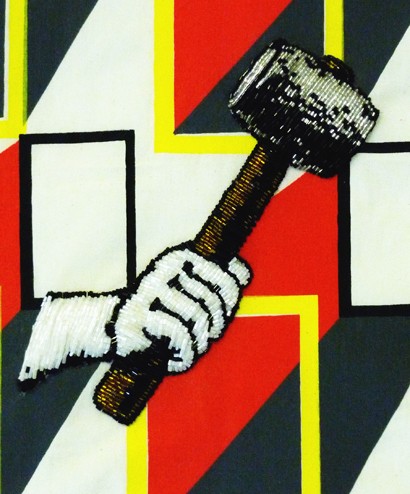 Guillaume's installation for Rise combines a scientific analysis of perspective with ornamentation and iconic symbols and is largely inspired by Voodoo art. Consisting of prints, textiles and sculpture Airiaud's work is heavily influenced by the processes and materials he uses. Repeatedly he learns traditional techniques to realise his ideas such as embroidery, marquetry, goldsmithery and other handicrafts. Guillaume's personal logo plays an important part in the installation, the geometric motif is hand screen printed on two large banners, the image is repeated and consists of four colours: red, yellow, grey and black, it represents a three dimensional design of two frames enclosing a corridor.
The banners and curtains are embellished with embroidered and appliquéd images, these images include flowers, caduceus, a hammer clasped in a strong grip about to strike and a large heart. The heart becomes the focus of the exhibition, inspiring the title 'Love Me Tender' and questioning the validity of its image.
Death is also present in the installation with two large prints of a mummified couple entitled 'I Used to Love You Forever I & II', together in the afterlife they seem to belie the orders of 'till death do us part'. All of Airiaud's works are informed by a passion for traditional crafts and the cultural and mystical importance of their origins. It is easy to forget when seeing a pattern or a textile in the 21st century that there is usually a great symbolic or magical significance in its ancestry.
Airiaud was born in Nantes France in 1983. He graduated from the Academy of Fine Arts in Nantes (ERBAN) in 2006 and studied History of Art at Freie Universtät Berlin in 2008. Airiaud lives and works in Berlin.